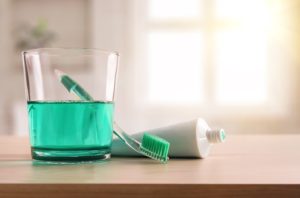 Our world recently underwent a major change. The Covid-19 crisis is affecting people around the globe. It has even caused the American Dental Association to recommend that dentists only offer emergency treatment until Covid-19 is no longer a significant threat. Has your dental treatment been delayed due to social distancing protocols? Here are some tips on keeping up with your dental hygiene through the quarantine so you can prevent new dental problems and stop current ones from rapidly worsening.
Brush Up on Your Brushing Technique
Most people regularly brush their teeth, but not everyone brushes their teeth properly. Here is a brief list of things you can do to make your brushing as effective as possible:
Brush for at least two minutes twice a day. Try to spend 30 seconds brushing each quadrant of your mouth.
Be gentle. Brushing too hard can irritate your gums and cause premature wear and tear on your enamel.
Use a fluoride-containing toothpaste. Fluoride helps to fortify enamel and is a key to preventing decay.
Be thorough. Do not forget to brush the backs of your teeth or the area along the gum line.
Floss Nightly
Allowing food particles and bacteria to remain on your teeth overnight can quickly worsen existing decay and lead to new day. It is vital, then, that you go to bed with a clean mouth. Before you brush at night, use floss to gently clean the tight spaces between your teeth. But, remember — you shouldn't just quickly insert the floss into the space and pull it out. Run it along the sides of both teeth that surround the space.
Rinse with Mouthwash
Rinsing with a mouthwash for 30 – 60 seconds before or after you brush your teeth can help to clean all the little nooks and crannies in your mouth. Bear in mind, though, that not all mouthwashes have oral health benefits. Some are just designed to freshen breath or whiten teeth. Be sure that your mouthwash is designed to fight harmful bacteria. You might find it beneficial to use a product that contains fluoride or that has an agent that prevents plaque from hardening into tartar.
Schedule Your Next Dental Appointment Now
Hopefully, the spread of Covid-19 will soon be under control. When that happens, dental practices are going to resume their normal operating hours. They are likely to be much busier than usual, and it might be a challenge to secure an appointment slot that is convenient for you. Therefore, you should consider contacting your dentist as soon as possible to ask if they are scheduling appointments for after the quarantine ends. They will be happy to see you and to help you smile after we all get through the Covid-19 crisis!
About Our Practice
The five dentists and specialists at Family Dental Practice of Newington are committed to the health and safety of our patients. Currently, we are providing only emergency treatment, but we are looking forward to resuming normal appointments after April 6. If you would like to schedule an appointment for when we re-open, or you would like to learn more about how we are protecting the oral and overall well-being of our patients, contact us at 860-665-0444.