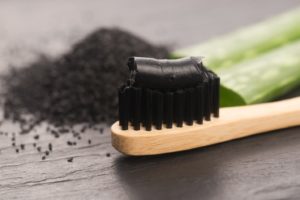 Activated charcoal products are extremely popular these days. Charcoal is often praised for its ability to bind to toxins and draw them out of the body. In fact, it is often used to treat food poisoning and drug overdoses. It has even made its way into toothpastes. Many people claim it is a natural alternative to peroxide for achieving whiter teeth. However, before you jump on the activated charcoal toothpaste bandwagon, there are some facts that deserve your consideration.
Research Does Not Support Charcoal Toothpaste
Very little research has been done on charcoal toothpaste and how it may affect oral health. Plus, the American Dental Association (ADA) has not given its seal of approval to any charcoal-containing products. The lack of scientific evidence to back up the use of charcoal toothpaste is in itself a cause for concern. However, the biggest red flag when it comes to these products is related to the potential for enamel erosion.
Charcoal May Cause Enamel Erosion
Tooth enamel is very hard, but it is also vulnerable to erosion, especially when it is exposed to abrasive substances. If you use a charcoal toothpaste in Newington that is overly abrasive, you could end up causing irreversible damage to your teeth. Your thinned enamel will increase your risk of suffering from painful dental sensitivity and cavities.
Also, keep in mind that while charcoal toothpaste may make teeth look whiter in the short term, it might actually cause them to look yellower in the long term. That is because the thinner the tooth enamel becomes, the more translucent it becomes. The yellow dentin underneath it will thus become more visible.
Safely Whitening Your Teeth
Anyone who is interested in exploring new, natural products that can benefit their oral health and whiten their teeth deserves commendation. However, caution is the wisest course of action, particularly when it comes to using something as abrasive as charcoal. Most dentists would recommend that you either use it very rarely or not at all. Instead, you should stick with proven methods for whitening your teeth.
For example, peroxide-based professional teeth whitening in Newington has a track record of success and has an extremely low risk of causing any lasting, adverse effects on teeth. Even many over the counter whitening products that have the ADA seal of approval can remove a degree of staining and are unlikely to damage teeth.
Activated charcoal certainly has health benefits, but it is best not to use toothpastes that contain it. Your dentist will be happy to give you personalized product recommendations that will help you protect your oral health for the long run.
About Our Practice
We are proud to have five doctors on-staff at Family Dental Practice of Newington, including three general dentists. Our team is deeply interested in protecting the oral health of our patients, and we are always willing to offer product recommendations. If you have questions about how you can improve the health or appearance of your teeth, contact us at 860-665-0444.