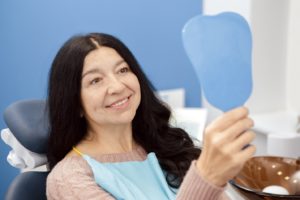 Dental implants provide outstanding benefits, and they have the potential to last a lifetime. Plus, they boast an incredibly high success rate. In fact, according to some estimates, they are successful in over 95 percent of cases. However, in rare cases, implant failure in Newington occurs. This reality should not make you shy away from dental implants, but it should move you to take proper precautions that can minimize the risks involved with your procedure. How can you do that? In this blog post, we will discuss some keys to preventing dental implant failure.
Key #1: Choose the Right Dental Team
You should entrust your dental implant procedure only to a dental team has the experience and skills necessary to carry out a successful procedure. For example, it may be wise to partner with a practice that has an on-staff oral surgeon who will place the implants in your jawbone.
Key #2: Make Sure Your Dental Team Has the Right Technology
Your dental team should have advanced technology at their disposal. If they use a cone beam scanner (otherwise known as a CBCT), they will be able to get a three-dimensional view of your teeth, jawbone, and connective tissues. The machine provides a much higher level of detail than a normal digital X-ray. Your dental team will thus be able to get a comprehensive view of your oral anatomy and plan your procedure accordingly. They will know exactly where in your bone the implants should be placed to maximize their chances of long-term success.
Key #3: Comply with Pre- and Post-Op Instructions
Your daily habits will play a large role in your treatment's ultimate success. Your dentist will provide you with instructions that will minimize your risk of developing an infection around your implants. For example, you should avoid the use of tobacco, stick to a thorough oral hygiene routine, and be diligent about managing your systemic health.
Key #4: Schedule Regular Recall Visits
After your dental implants in Newington are in place, it is important that you diligent about pursuing follow-up care with your dentist. At your checkups, your dental team will inspect your implants, clean the portion of them that protrudes above the gumline, and let you know if there are any developing problems that require treatment. If your dentist notices any issues, you may need to undergo another CBCT scan so they can get a clearer idea of what is happening and design a plan to prevent the problem from worsening.
By and large, dental implants are a treatment that offers excellent long-term prospects. You can minimize your risk of complications by following the above advice.
Meet the Practice
At Family Dental Practice of Newington, we are proud to have four doctors on our team, including a highly trained oral and maxillofacial surgeon. We offer start-to-finish dental implant care and utilize advanced technology, including a CBCT machine. To learn more about us and the services we offer, get in touch with us at 860-665-0444.