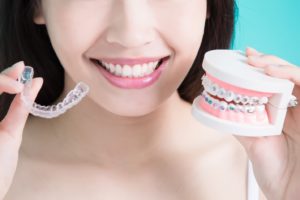 Under ideal circumstances, orthodontic treatment offers a permanent solution to dental misalignment. However, in some cases, teeth can shift out of place a few years (or longer) after you finish treatment with traditional braces. If that is true of you, you may be wondering if you are a candidate for Invisalign in Newington. For most people, the answer is yes! In this blog post, we will talk about what you can expect from your orthodontic retreatment journey.
What Is Invisalign?
Invisalign works by using removable, clear aligners to apply gentle pressure to the teeth, instead of the brackets and wires that are associated with traditional braces. The aligners are custom-made for your unique mouth. You will wear each aligner for 20 – 22 hours each day for about two weeks before graduating to the next one in your series. Invisalign is an alternative to regular braces that has become increasingly popular in recent years.
Invisalign for Orthodontic Retreatment
Invisalign is able to address most cases of mild to moderate dental misalignment, including rotated teeth, crooked teeth, and bite problems. It is unlikely that your teeth have become severely misaligned in the time since you completed your braces treatment, so it is reasonable to believe that you can get Invisalign after braces in Newington.
Of course, your local Invisalign provider is the best person to let you know for sure whether this innovative treatment is a fit for your circumstances. They will carefully examine your teeth, your jaw, and your bite before they come to any definite conclusions.
What to Expect with Invisalign
Many patients who must undergo orthodontic retreatment vividly remember the downsides of traditional braces. They opt for Invisalign because of the numerous advantages it offers:
Because the aligners are removable, you will not have to worry about dietary restrictions or a complex oral hygiene routine.
The aligners are clear, which is a valuable perk for adults who wish to maintain a professional image.
Many patients find that Invisalign's aligners are more comfortable than traditional metal braces.
If your teeth have not radically shifted since you completed your treatment with braces, it may not take very long for Invisalign to realign them. Many patients only need to wear Invisalign for 6 months to a year.
Will Insurance Pay for Invisalign?
Dental insurance policies that cover orthodontic treatment usually do so only once in a lifetime. Therefore, your benefits might not cover Invisalign if you have had braces in the past. However, most dentists offer affordable payment arrangements to help patients fit their treatment into their budget.
Has your smile become misaligned after braces? Invisalign may be the most convenient way to get your teeth back into their proper places.
Meet the Practice
Family Dental Practice of Newington features a team of dentists and specialists, including an on-staff orthodontist. We are proud to offer Invisalign as one of our advanced services. If you would like to learn more about Invisalign for orthodontic retreatment, contact our friendly team at 860-821-6007.