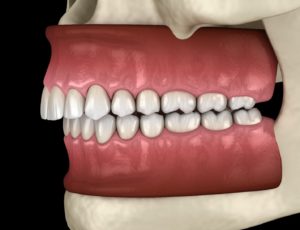 Do you often feel self-conscious due to an overbite, underbite, crossbite, or another type of bite problem? Not only can these issues affect your facial aesthetics, but they can also increase your risk of TMD and other oral health issues. What can you do to achieve a harmonious bite? The answer may be as simple as using Invisalign in Newington.
How Invisalign Works for Bite Problems
Invisalign uses a series of removable, clear plastic aligners to apply gentle pressure to the teeth. As you graduate from one aligner to the next, your teeth will gradually move into their proper positions.
In order to correct bite problems, Invisalign often requires attachments or other extra orthodontic appliances. For example, if you have an overbite, you may need elastics to work with your aligners. The elastics are small rubber bands that work with your aligners to train your lower jaw to rest in a forward position. This is similar to how elastics work with traditional braces. If your overbite is more severe, you may need additional appliances or treatments to produce harmonious occlusion.
The process for correcting other types of malocclusion varies depending on the nature of the problem and its severity. Your dentist will thoroughly evaluate your teeth and jaw before determining the exact steps and equipment needed to produce optimum results.
What to Expect with Treatment
Here are a few guidelines on what you can expect while you are using Invisalign to align your teeth and correct your bite:
It is important that you stay in touch with your dentist and/or orthodontist and comply with their treatment instructions.
Invisalign and its attachments may cause a bit of soreness in your mouth. This is normal and temporary. If you experience severe discomfort, you should let your orthodontist know.
Once you complete your treatment, you will have to use a retainer to maintain your results.
Can Invisalign Correct All Bite Problems?
Invisalign has come a long way since it first hit the market. After its initial release, it was more limited in what it could accomplish. As the decades have passed, however, Invisalign technology has evolved. Now, it is capable of correcting most types of bite problems.
However, it might not be appropriate in some cases. For example, severe malocclusion may require traditional orthodontics or even surgery to correct. Your local Invisalign provider can let you know whether Invisalign is a fit for your circumstances.
Do you have an overbite or other type of bite problem? Invisalign may be the key to helping you achieve a well-aligned smile.
Meet the Practice
Family Dental Practice of Newington is proud to have a team of five dentists and specialists, including an on-staff orthodontist. Dr. Ledjo Palo has undergone complex orthodontic treatment in the past, so he is especially empathetic toward patients who must use braces or Invisalign to align their teeth and/or bite. If you would like to speak to him about orthodontic treatments that may be able to help you improve your oral health and your smile's appearance, contact our team at 860-821-6007.