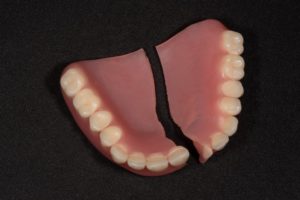 Dentures have helped generations of patients to replace their lost teeth, enjoy increased chewing power, and smile with renewed confidence. As great as dentures are, however, they do have some disadvantages, one of which is their limited lifespan. If you have had your dentures for a few years already, you might be wondering when you should replace them. In this blog post, we will touch on five signs that indicate you should contact your dentist to ask about getting new dentures in Newington.
Your Dentures Feel Loose
After you lost your natural teeth, the bone that once supported them began to be resorbed (recycled). Over time, this natural process can affect the shape of the jaw, which can in turn cause your dentures to feel loose. If you find that your dentures often slip out of place or you are using more adhesive than you used to, a visit with your dentist in Newington would certainly be worth your time. It might be possible to reline (adjust) your dentures so they fit well again. However, it might be necessary for you to invest in an entirely new prosthetic.
It Is Difficult for You to Speak Clearly
Your tongue interacts with your prosthetic teeth to help you produce crisp, clear speech. However, if your dentures do not fit well, your words might start to take on a "slushy" sound. You might need to get your prosthetic adjusted or replaced.
Your Gums Are in Pain
You should be able to wear your dentures all day without any discomfort. If you find that your gums start to hurt soon after you begin to wear your prosthetic, or you have lesions or sores on your gums, you should definitely visit your dentist. Your denture might be damaged, or it might no longer fit well.
There Is Visible Damage or Discoloration
If you accidentally break your denture, do not try to repair it on your own, and do not attempt to wear it while it is damaged. Instead, make an appointment with your dentist. They will assess the damage to your prosthetic and let you know if it can be repaired or if you need a new one.
Additionally, if your denture has incurred noticeable stains that you cannot get rid of through normal cleaning measures, it might be time to replace it purely for aesthetic reasons.
You Are Ready for an Upgrade
Even if your current denture is still functioning well, you might be thinking about replacing it because you want a sturdier, longer-lasting tooth replacement solution. If so, ask your dentist about implant-retained dentures; they are anchored in the jawbone and are much stronger than their non-implant counterparts.
Should you replace your dentures? If you suspect that you should, your local restorative dentist is ready to help.
Is it time to replace your dentures? If you suspect that it is, your restorative dentist is ready to assist you.
Meet the Practice
The five dentists and specialists at Family Dental Practice of Newington are pleased to offer a range of services, including traditional and implant-retained dentures. If you are interested in learning more about how we can serve you, contact us 860-821-6007.