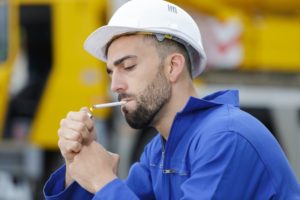 Data from the Centers for Disease Control and Prevention indicates that more than 34 million people in the U.S. smoke cigarettes. If you are among that number and you have lost one or more of your natural teeth, you might wonder how your habit could affect your candidacy for tooth replacement. This blog post discusses the relationship between smoking and dental implants.
Smoking Does Not Automatically Disqualify You from Getting Dental Implants
It is important to understand that dentists determine candidacy for dental implants in Newington on a case-by-case basis. When you go in for your consultation, your dental team will thoroughly examine your mouth and learn about your lifestyle habits before they determine which tooth replacement option is right for you. Smoking is not grounds for automatically denying dental implant treatment.
However, if smoking has significantly damaged your oral tissues — for example, if you have gum disease — you might not be eligible for dental implants right away. Restorative dental treatments, preferably along with your efforts to quit smoking, may enable you to qualify for dental implants in the future.
How Smoking Affects Dental Implants
If you choose to continue smoking after you receive dental implants, you could face a number of adverse consequences.
Smoking slows down osseointegration. Osseointegration is the biological process through which dental implants bond with the jawbone. Smoking delays the body's healing process and can slow down or even prevent osseointegration.
Smoking increases the risk of infection. Smoking can interfere with your immune system. It also contributes to dry mouth. Both of these issues increase the risk that an infection will gain a foothold in the tissue around your dental implants.
Smoking increases the rate of dental implant failure. A study conducted by the University of Murcia found that among a group of 66 adults, 15.8% of implants in smokers failed. Only 1.4% of implants in nonsmokers faced the same problem.
What You Can Do
If you wish to get dental implants, it is best if you quit smoking altogether. However, if you feel that is not an option for you, you should do your best to abstain from cigarettes for at lest one week before and two weeks after your dental implant surgery.
Additionally, keep in mind that the more cigarettes you smoke, the greater your risk of implant failure. If you do not quit smoking entirely, simply reducing how many cigarettes you smoke each day may prove to be very helpful for your new teeth.
Smoking is bad for dental implants — but you should not assume that your habit is an absolute roadblock on your tooth replacement journey. Your dentist will be happy to evaluate your situation and offer non-judgmental advice about how you may be able to rebuild a complete smile.
Meet the Practice
The general dentists and specialists at Family Dental Practice of Newington are proud to offer comprehensive dental implant services. If you are ready to explore your tooth replacement options, they would be pleased to talk with you. Contact our office at 860-821-6007.