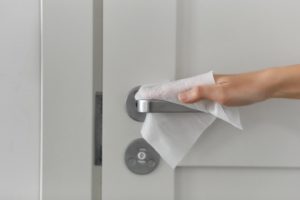 Before COVID-19 broke out, your dental team may have had a somewhat simple procedure for preparing to see you. They would carefully wash their hands, put on fresh personal protective equipment (PPE), and make sure that they were using sterile instruments. Now, though, stricter measures are necessary to protect patients' overall well-being. In this article, you will learn a few details about the dental safety protocol in Newington that is helping to safeguard your health during this pandemic season.
Champions for Safety
The Centers for Disease Control and Prevention, the American Dental Association, and other professional organizations provide dentists with guidelines on how to prevent the spread of sickness. Your dental team has made it their business to understand and apply those guidelines to the extent possible. They aim to adhere to even the smallest rules, and they give each other friendly reminders on how they can prioritize safety. They also help patients play their role in promoting a healthy dental office environment.
Daily Health Checks
Your dental team is always delighted to see you. However, they would not work if they knew there was even a small chance that they could cause you to become sick. That is why they submit to a quick health screening each day before they begin work. The screening includes a temperature check and a simple questionnaire that assesses whether it is likely that they have been exposed to COVID-19. Patients are also required to undergo a health screening before their appointments.
Changing Work Clothes at Work
Before COVID-19 became a threat, you might have occasionally seen members of your dental team wearing their scrubs while they were running errands around town. Now, though, you are unlikely to see that. Dental professionals travel to work in their regular clothes. When they arrive at the office, they change into freshly cleaned scrubs. This practice reduces the risk that viruses or other contagions will transfer to patients from a dental staff member's garments.
Strict Standards of Cleanliness
Dental offices have always been among the cleanest places in the community. That is truer now than ever. Your dental team has implemented a strict cleaning routine. They disinfect all countertops, door handles, reception chairs, and other surfaces at least three times every day. They thoroughly clean the operatories between each patient, and they perform a deeper cleaning of the entire office every evening after closing.
This blog post has explained just a few of the measures that your dental team is taking to enable them to care for both your oral health and your overall wellness. You can go to your next appointment with confidence that you are entering an environment that is as safe as possible.
Meet Family Dental Practice of Newington
Our team has five specialists and general dentists in Newington. They have decades of combined experience, and they are eager to put their expertise to work for patients, even during this time of COVID-19. We offer a broad range of services in a clean, health-conscious environment. To learn more about the steps we are taking to fight the spread of illness or to ask questions about our services, contact us at 860-665-0444.